Now if you're a resourceful person who's not afraid of repetition then there's a good chance you can find a
way to make money at a festival.
The other week I saw a
12 year old boy
who would "
light your cigarette for 50p."
Apparently he'd made upwards of 30 quid over the weekend.
What I'm saying is it's all about the numbers.
The one I go in for is is only possible at 2 festivals;
the first is Latitude and the other is Electric Picnic.
I'm obviously talking bout collecting eco cups
See the way it works is when you buy your first bear/cider at the bar they charge you an extra 2 pound/3 euros, and they give you yu drink in a reusable high-density plastic cup that you can return for a full refund later.
Saves on litter and so it's good for the viroment.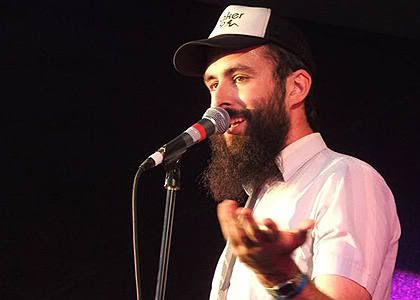 I remember 2 year ago
watching
Scroobius Pip
performing on the lake stage at latitude.
First he got the crowd to wave there cups in the air
, (like they just don't care). Then as he finishes "thou' shou't"
he told the crowd,
"If yu like this then throw yu cups on the staaaaaaaggee!"
They must of liked it because for the next few moments the sky went dark for old Scroobs, as the sun was blocked out by a barrage of high-density plastic cups.
Then there was a moment of talking amoungst our selves as he scooted about the stage collecting them up.

I heard later that he got hustled by the guy at the bar who refused to give him face value on the cups and instead palmed him off with a settlement offer.
Anyway
Lecky-Picky yeah this is my cupping turf.
Last year I did 42 cups,
that
translates as 126 Euros,
(right I cant work out how to access the euro sign on my keyboard, it's like 3rd option on the 2/@ key??)

So, Me and
Andy Craven-Griffiths
took it on like a job this year first shift
Friday night.
I did 25 cups Andy did about 20.
Saturday morning we cashed them in and Saturday night we did the same thing.
Yu see the best place for cupping is wandering through thick crowds with a torch pointed at the floor.
What this meant was as well as making all those loverley euros we also got to see most of the musical acts.
Saturday I did 68 cups Andy did, 50
Sunday at the cup cashiers they
weren't "accepting" the dirty one
s
and to be fair most of ours were pulled out of what can only be described as a quagmire of mud, booze and sputum, (brilliant word sputum).
So after about a
n hour and a half's worth of cleaning
we cashed them in in batches of 10 over 5 or 6 hours.
During this time
I managed to find

another 7

taking my total for the weekend to a tidy

100 cups.
In case you're not a maths man
that translates to 300 Euros.
Not bad eh, for what is essentially all terrain glass collecting.