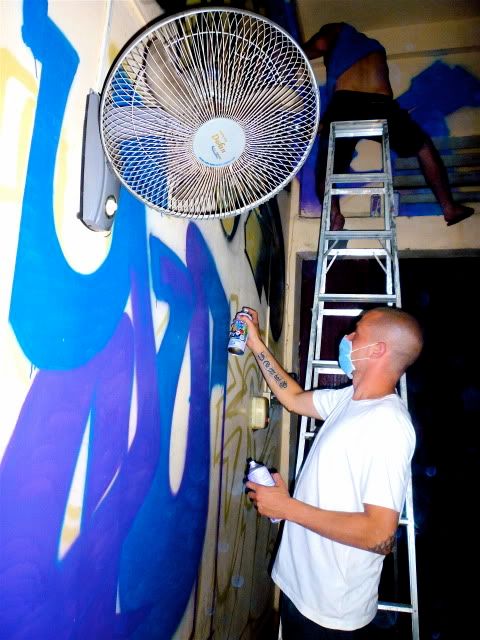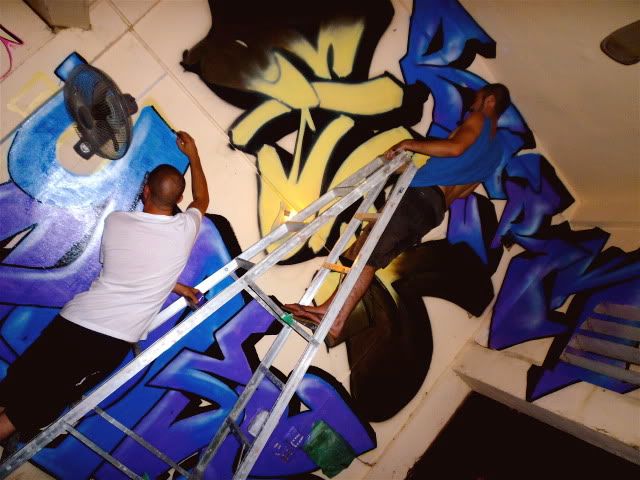 So what with me getting back on the horse, (metaphorically, I'm not on smack or a cowboy).
We figured it was time the old FYS started reppin in Phnom Penh.
So we painted inside Nam's bar.
Big V started the ball rolling, I missed the claim on space below that involved negotiating an ill placed fan.
So I went for an awkward corner space with the idea that I'd paint across 2 walls and a bit of ceiling.
The others said it was a bit ambitious, but then what's life without ambition.
Any way, via an undisclosed contact V pulled in a right rickety looking A-frame ladder with bent up cross bars.
First test was shakey but once I'd secured the cross sections with a few bits of ripped up plastic bag it was a lot more stable.
By the time we were one and a half hours in and had just started brushing on my outline, the top of the ladder was my home.
Venks refused to compromise his integrity and outlined in with this crazy, fast, runny, old-fashioned motorbike paint.
Respect due to him he pulled it off about a thousand times better than I think I'd have been able to.
We're talking about one big power-line around the edge and that might happen today but you get the basic gist of what's going on eh.
Berk
Venks
Yobs
0116/FYS Crew