That's when I wrote my last blog.
and I'm sure if anyone actually reads this shit then they'll have no doubt been missing the sporadic updates on the mundanity of my day to day existence.
Well yu in f'ra treat mate.
Cos this blog is the flashback episode.
Here's the last week.
I did alright yu know, 'sept for the walk from the train station on witch I was publicly heckled on several occasions. But to be honest the folk doing the heckling were some backwards looking sons of bitches to tell the truth. I mean
nobody in Leeds even knows about pin-rolling their jeans.
Poejazzy-poetry/music/fancy meal hosted by
PIP
,
(funny bastards)
this lot liked my combination of astute social observation and bastardization of the English language through the East-Midlands idiom
.
Also check out this girl.
She's a jazz singer and apparently she's always in the Sunday supplements.
I thought I recognised her from somewhere 
but
I reckon I probably just came across her face in a jazz-mag at some point
Also Tuesday night was the Us election.
"Change has come to America"
so that's alright eh.
I was mad busy writing a piece for the Curve opening.
It's about the Leggy Moto. 
"Change has come to Leicester"
Curve Rehursals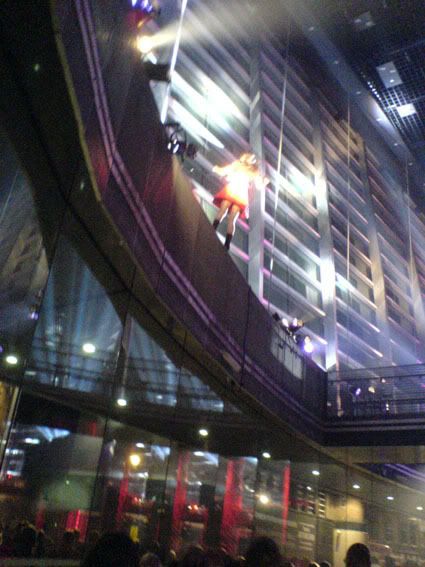 I've been talking to them about running away with um.
Pillers support Example in Leggy
Look I'm not gunna lie to yu yeah,
I had no idea what this geeza's music was gunna sound like and before we first met him I thought maybe he was a bit of a nob.
But fair play to the lad by the end of talking to him
I actually think he's an alright guy.
Still not sure about his music but hey. 
The gig was 14+ proper operation Worthers Original
, yu know what I mean. Anyway
one 16 year old lad
at the front chipped his front tooth on the barrier and
wanted me to put my finger in his mouth
to feel it. Yeah right mate.
Example watched our set and said that i should do stand up
.
I said I do performance Poetry it's like stand up but with more artistic merit, Stand up's too easy.
Here's a video of Example doing Stand Up.
also check out this artwork that Ben made in the greenroom.